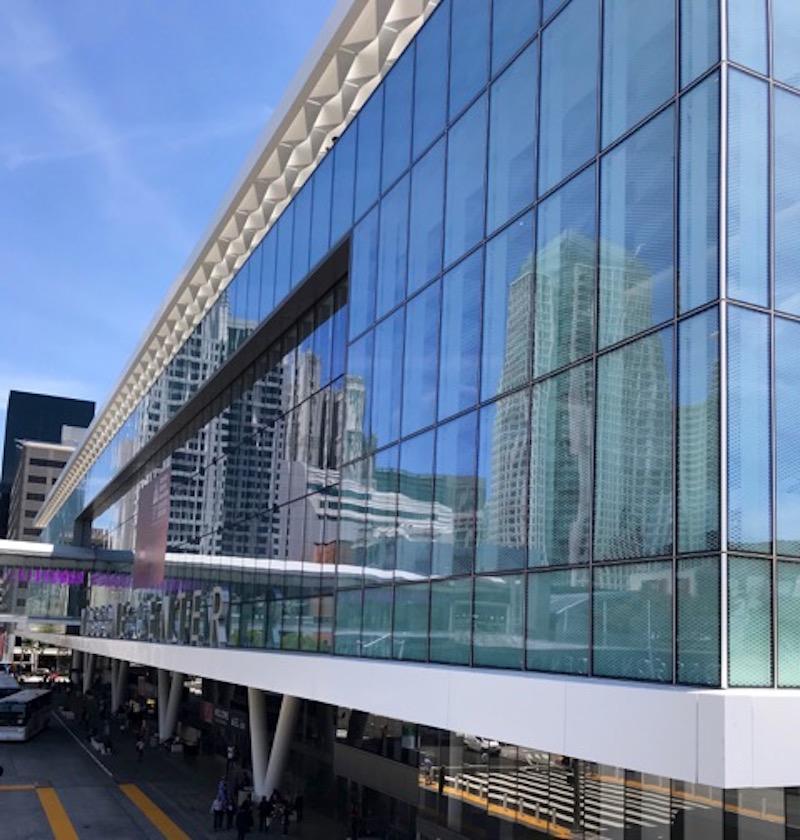 Getting to The Moscone Center
Located in the urban heart of San Francisco's SoMa district, The Moscone Center is easily accessible by transit.  
BART offers fast, convenient regional service and MUNI Metro provides light rail service throughout the City. To reach Moscone North & South, take BART or MUNI to Montgomery station. To reach Moscone West, take BART or MUNI to Powell station.
Caltrain offers a frequent schedule into the nearby station at 4th & Townsend Streets. All of these stations are within a few minutes' walk of The Moscone Center.
Ferries offer transport between San Francisco and cities located across the San Francisco Bay's waters. The San Francisco Bay Ferry provides weekday, weekend, holiday, and seasonal services to nine terminal locations around the Bay including Alameda, Oakland, and Vallejo. From San Francisco's Ferry Terminal riders can connect to surface and subway options taking them to The Moscone Center.
The Moscone Center

The Moscone Center
Administrative Office
747 Howard Street, 5th Flr.
at the corner of Third & Howard streets
San Francisco, CA 94103

Moscone West
800 Howard St
at the corner of Fourth & Howard streets
San Francisco, CA 94103
To help you get around town, here is a link to Google Maps.
Inbound Shipping Address
Specific inbound shipping information for events at the The Moscone Center is outlined in the Exhibitor Services Manuals provided to exhibiting companies by each event's General Service Contractor. Arrangements vary by event, and it is necessary to fully understand those instructions before shipping.
The entrance to The Moscone Center loading docks for North & South buildings can be found on the west side of 3rd Street between Folsom Street & Howard Street. The entrance to the loading docks for West is on Howard Street between 4th Street & 5th Street. Drivers delivering shipments and exhibitors in personally owned vehicles should be aware of event requirements for checking in at the marshalling yard if necessary. 
Parking around The Moscone Center
The Moscone Center does not have on-site parking. For information about parking around The Moscone Center, please click here.