Moscone North/South Exhibit Level Floor Plan
Six individual exhibition spaces can be combined to create 504,000+ square feet of contiguous space. Our internal freight system provides access to 20 loading docks with direct drive-on access to the exhibit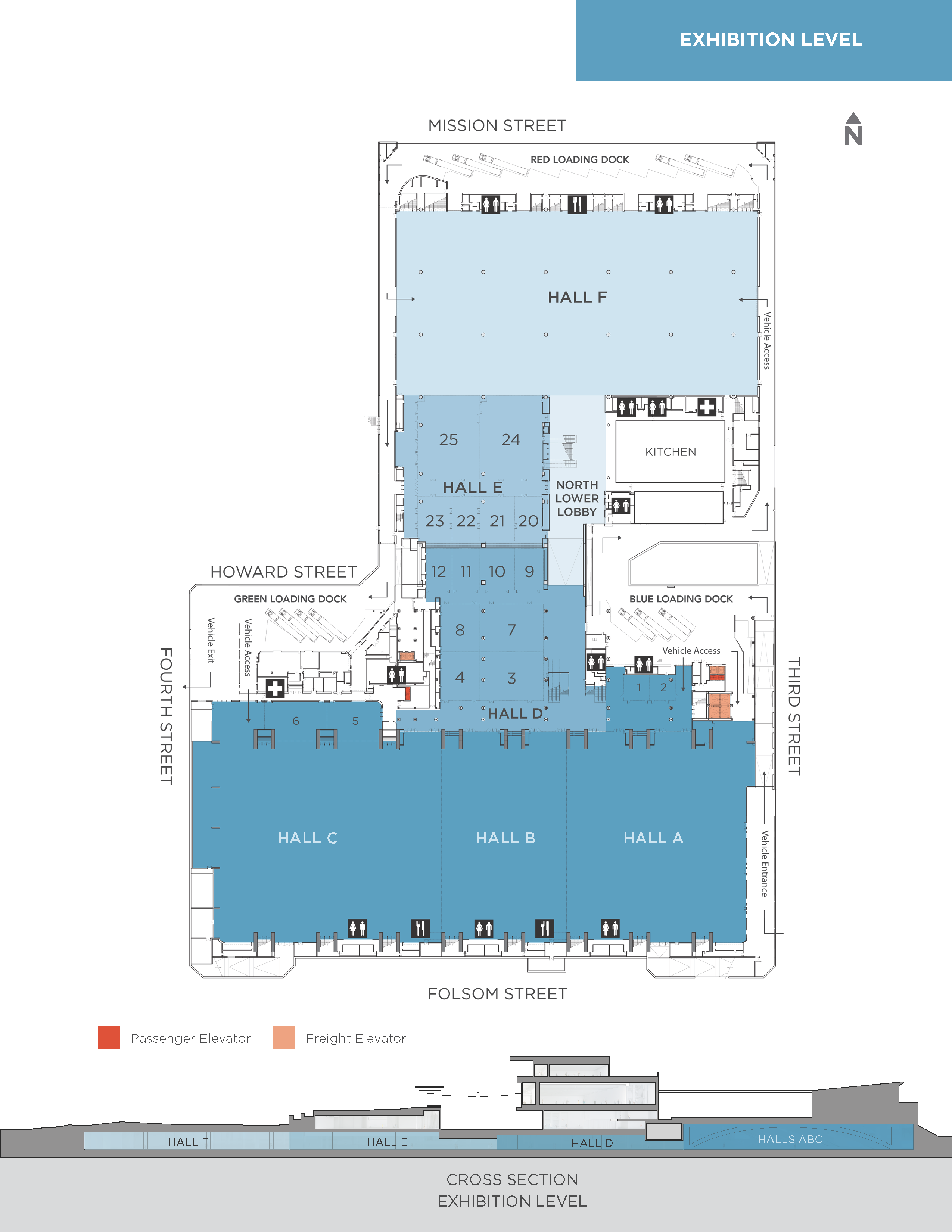 Moscone North/South Exhibit Level Floor Plan
Details
Our exhibit halls have the flexibility you need to create your ideal event.
Spacious and Flexible Exhibit Halls
Our exhibition level consists of 6 spacious halls that can be combined to accommodate over 2,300 10'x10' booths.
Halls ABC consist of 250,000+ square feet of column free exhibit space with 37' ceilings.
Halls D & E are flexible carpeted space that can be used as exhibit halls or breakout sessions. 
Hall F has 28' ceilings in 138,780 square feet of space.
Capacity Chart
Maximum Room Capacities
Booths
Room
Square Feet
Dimenions
Ceiling Height
Theater
Banquet
Classroom
10' x 10'
HALLS ABC
Halls ABC Exhibits
244,383
290' x 797'
37'
1,184
Hall A
86,204
290' x 259'
37'
7,392
3,600
3,840
371
Hall B
50,787
290' x 180'
37'
6,965
2,530
2,188
268
Hall C
107,392
290' x 358'
37'
9,408
4,610
4,992
545
1
1,296
36' x 36'
24'
112
50
48
2
1,296
36' x 36'
24'
104
50
48
(1-2)
2,664
36x74
24'
236
130
120
5
3,866
79x52
16'
383
170
200
6
4,366
52'x90'
16'
451
200
248
(5-6)
8,232
169' x 52'
16'
772
350
352
HALL D
Hall D Exhibits
56,992
Irregular
Varies
197
3
6,370
70' x 91'
24'
694
310
360
4
3,990
70' x 57'
24'
451
180
240
7
6,279
69' x 91'
24'
670
320
360
8
3,933
69' x 57'
24'
446
190
232
(3-8)
20,711
139x149
24'
2548
1300
1300
9
2,280
60' x 38'
18'
253
110
128
10
3,000
60' x 50'
18'
287
140
160
11
2,400
60' x 40'
18'
224
110
128
12
2,280
60' x 38'
18'
237
110
128
(9-12)
9,960
60' x 166'
18'
1119
590
576
HALL E
Hall E Exhibits
41,812
200' x 209'
24'
214
20
2,560
64' x 40'
24'
282
110
132
21
3,200
64' x 50'
24'
321
140
172
22
2,560
64' x 40'
24'
282
110
132
23
3,200
64' x 50'
24'
321
140
172
24
10,800
120' x 90'
24'
1,278
590
604
25
10,680
120' x 89'
24'
1,235
580
616
(20-25)
37,295
180' x 209'
24'
4,208
2,070
1,968
HALL F EXHIBITS
138,631
265' x 520'
28'
10,500
7,790
8,176
744
NORTH LOWER LOBBY
20,622
Irregular
Varies
Halls ABCDEF
502,440
Irregular
Varies
2,350